Michael Vick, anti-dogfighting bill supporter? It's true. The one-time dog fighter is now supporting a bill in Washington, D.C. to stop dogfighting. Who would have thought that Vick would go as far as to do something like this. It does make you wonder if his heart is in it or if he is just trying to get American's to forgive him.
Vick went to Capitol Hill in an effort to show his support of a bill that would criminalize not only the person fighting the dogs, but also any spectators as well. The government is hoping to dissuade young people from fighting dogs as a way to make money or entertain themselves. This bill would make it a criminal act to organize a dog fight, watch a dog fight or take part in a dog fight. If it passes, this bill would help to end the suffering of thousands of dogs - mainly pit bulls - who are ruthlessly trained and then killed, whether they win the fight or not. It's a horrific thing to think about and even more horrific to watch. What kind of human being would want to stand there and watch that in the first place?
"I deeply regret my previous involvement in dogfighting, I'm sorry for what I did to the animals," Michael Vick said. "During my time in prison, I told myself I wanted to be part of the solution, not the problem."
The bill is not only setting out to stop dogfighting, it is also out to stop any type of animal fighting. When a video was shown on Capitol Hill of a young boy waiting to enter a cock-fight, Vick said he understood the problem clearly. Basically this is what children are being taught. They are brought up in families where dogfighting, cock-fighting and other animal fights are a way of life. What do people expect them to do when they get older? Of course, they're also going to get into the fighting arena. It's incomprehensible and disgusting.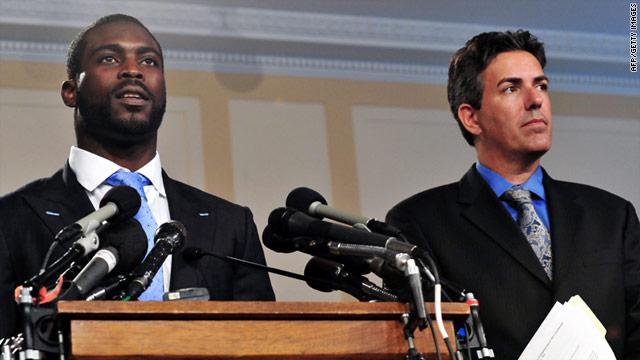 "This is what our kids are being taught," said Vick after watching the video clip, "and it's inhumane and it's pointless.."
Hopefully, with help from an unlikely source such as Michael Vick, this dogfighting bill will be able to see its way through. Wouldn't it be wonderful if all animal fighting was outlawed? It would end the suffering of so many defenseless animals and maybe paint a better picture of pit bulls at the same time. They can be sweet, loyal dogs when given the chance. People are just too afraid to open their minds and hearts to see that.
Photo courtesy of CNN