What's it like to have hot sex with Robert Pattinson in the back seat of a limousine? It's an experience that most Twihards dream of nightly and would give anything to realize. There is, however, one woman who has actually done (sort of) what the rest of the world's female population can only fantasize. And that woman is not Kristen Stewart. It's RPattz's lucky Cosmopolis co-star, Juliette Binoche. In a recent interview, the Academy Award winning French actress discussed the steamy scene she and Pattinson shared in the eagerly awaited David Cronenberg film.
In Cosmopolis, Binoche plays an art dealer who has an intimate encounter with her handsome, wealthy younger lover, Eric Packer in the back of his limo. Although La Binoche wears her little black dress throughout, and Rob seems totally clothed as well, it's nevertheless a moment of intense, primal eroticism.
"I play an art dealer who's been a lover of Robert Pattinson's character for a few years," mused Binoche. "Throughout the whole film she has this kind of sexual moment that Cronenberg always puts in his films. Then at the end she's feeling alone and left out. I don't know how long the scene is—maybe four minutes—but it's like a lifetime, a relationship kind of starting and ending....it was only two days shooting... It was good."
A two-day shoot, wearing a little black dress in the back of a limo with Robert Pattinson. Nice work if you can get it.
You can see an extremely brief but relatively explicit GIF image from Rob's and Juliette's "car sex" scene below. Enjoy.
Wonder if KStew has seen it yet? It's doubtful she'd be jealous, but it might have given her some new ideas for Robsten's next date night.
Just saying.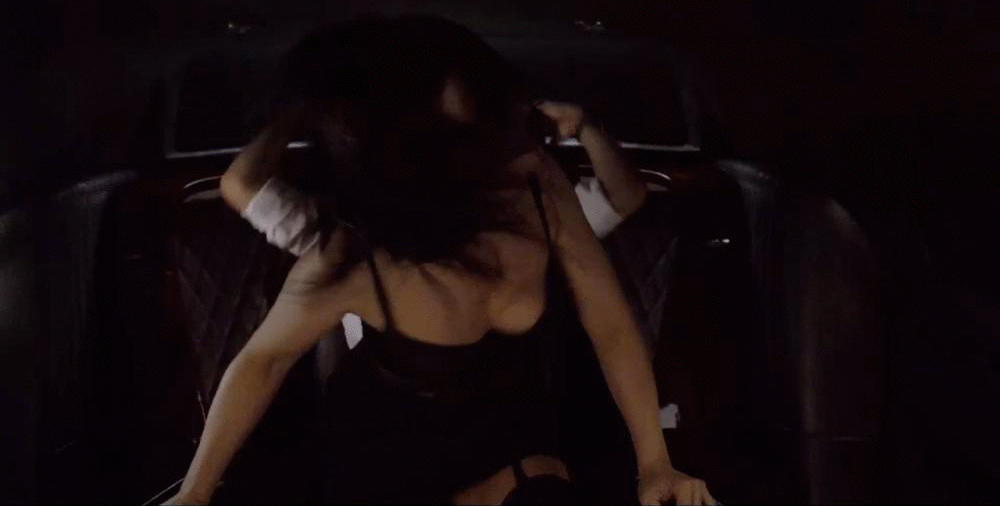 © Hope Carson 2012
Hope Carson is the author of 2 books: A Roaring Girl: An Interview with the Thinking Man's Hooker and A Thousand and One Night Stands: The Life of Jon Vincent. You can follow her on Twitter.