Miley Cyrus got an especially odd sex toy as an early gift for Christmas and she wasn't afraid to share it with the entire world. Miley posted a picture of herself and her new toy to Twitter. She is clearly not worried about what others will think of her new toy.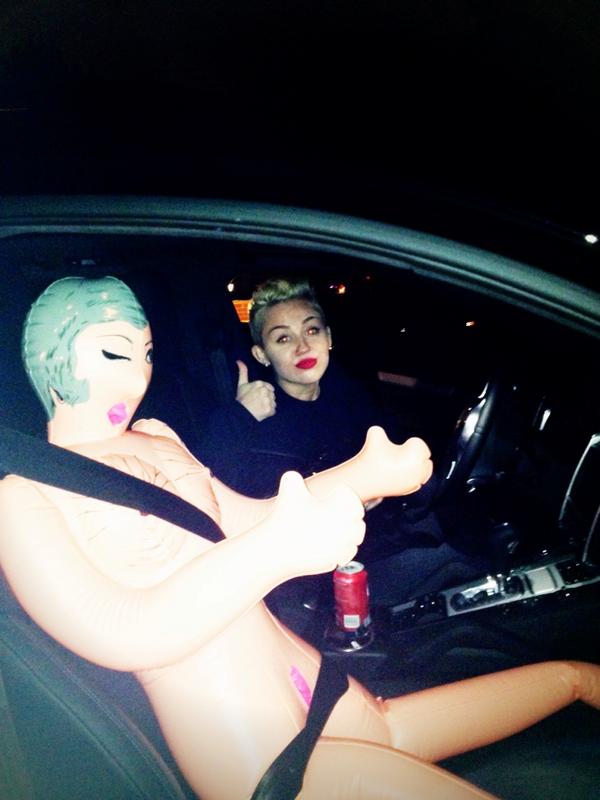 The singer loves to push the limits of propriety and flaunting a sex doll is really rather tame compared to some of her other stunts. At least Miley was completely dressed even if her new blowup doll was totally naked.
In the photo, Miley is seated in the driver's seat of her car with her new friend sitting in the passenger seat, all buckled up. Safety first! She included the caption, "Does this count for the carpool lane? Such a nice Xmas gift." She wouldn't be the first person to try that old trick.
Whoever gave her the lovely lady could have picked one a little better looking. This particular blowup doll is hideous and rather large. Obviously, it was meant as a joke, but really, couldn't the giver have found a doll a little prettier? Not to mention Miley's dogs. This should make an exciting chew toy for them.
Miley Cyrus has a pretty good sense of humor, but can her youngest fans and their overprotective parents handle seeing the former Disney darling hanging out with a blowup doll? Oh, the backlash on this should be interesting.
Photo Credit: Twitter