LeAnn Rimes just can't get it right. On the red carpet for hubby Eddie Cibrian's new movie, The Best Man Holiday, LeAnn hung on him like a sloppy drunk. To make matters worse, she was so underdressed, it had to humiliate the usually out of work actor. While costars like Michelle Williams and Monica Calhoun wore glamorous dresses, LeAnn was another story. She wore a cheap-looking, knit type mini-dress (sans underwear), a cream colored, textured leather jacket and knee high boots covered with an overlay that made it look like pants were covering them. No doubt the ensemble was pricey, but she looked very, very out of place at the event!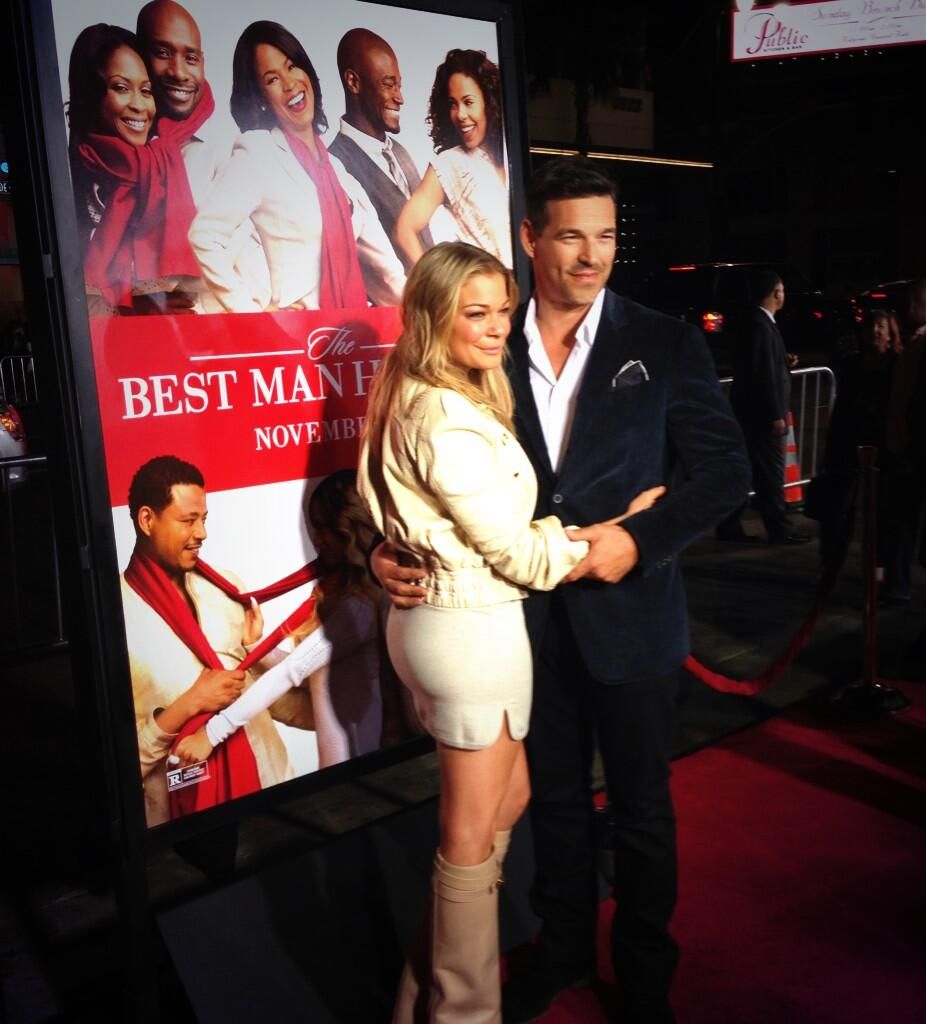 Earlier in the day, Leann tweeted (shocking, right?) to her fans that she was indecisive about what she was going to wear to the premiere. Since it's her husband's first big screen movie in a long, long time, you would think she would have had something stunning set up ahead of time with a stylist. Maybe she figured since Real Housewives of Beverly Hills was premiering this week, Brandi Glanville would be at some events so she could get ideas in time? After all, there's ample evidence she likes to copy whatever Glanville is wearing. Scary! Eddie was quite dressed down compared to his dapper costars. Terrance Howard wore a smart, pinstriped silk three-piece suit and tie. In fact, it seemed the only male star without a tie was Cibrian. Fortunately for LeAnn since she looked like an out-of-place hillbilly!
Not surprising, but creepy nonetheless, was LeAnn's behavior at the premiere. Still battling rumors of an impending divorce from Eddie (Please, Eddie, run...run for your life) that they both deny, she makes them both look ridiculous. Does that remind you of 2009 when LeAnn blasted reports of her marriage with Dean Sheremet falling apart due to an affair with Eddie? Or, maybe the denials from Eddie, that he loved his wife Brandi and their two little boys and would never have an affair with LeAnn Rimes? LeAnn has always tried to push her perfect life narrative. The resulting displays alternate from hilarious but sad to downright nauseating. Of the divorce rumors, a source said, "They've only been married for two and a half years, but she's been driving him to distraction with her psycho behavior almost from the moment they hooked up."
Photo credit: Twitter